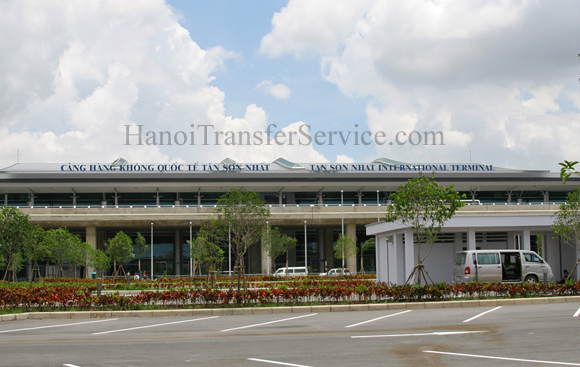 Ho Chi Minh City (Saigon) Airport lies 7km northwest of the city.
Arriving in Asia can be quite a culture shock for travelers who haven't visited the region before. However, on arriving at Ho Chi Minh City Airport for the first time be pleasantly surprised at how modern the airport terminal is and how the ground vehicles all look new and efficient.
A Vietnam Visa is required to land in Vietnam (available through embassies abroad) or a "letter of introduction" from a tour agent, however, at the time of writing it is also necessary to fill in an arrivals-departure card. On some incoming flights this card is distributed on board otherwise you'll need to get hold of one in the arrivals lounge before joining the queue to pass through immigration.
The staff are quite meticulous in checking your paperwork so make sure you've filled in the arrival-departure card correctly. If everything is in order they'll stamp your passport and you can then proceed to collect your luggage. Any mistakes and they'll send you back to correct them.
Hanoi Transfer Service offers a/c cars and friendly licensed drivers for transfers from the airport to your hotel, and from your hotel back to the airport at the best prices.
Usually, there are 3 kinds of vehicles: 4-seater cars for maximum 3 passengers, 7-seater for maximum 5 passengers and 16-seater for maximum 11 passengers. ( this to allow room for your luggage ).
| | | | | | |
| --- | --- | --- | --- | --- | --- |
| Car/ Service | 4-Seater | 7-Seater | 16-Seater | 24-Seater | 45-Seater |
| Pick-up | $20 | $25 | $45 | $85 | $130 |
| See-off | $20 | $25 | $45 | $85 | $130 |
From 22:00 to 5:00 AM extra 5$/car
Make an enquiry
Please fill out the form,below ! * are required
Ho Chi Minh airport transfer
Average rating:
13 reviews
Jul 21, 2018
Roundtrip from HCMC Airport
Every thing was great. Thank you so much.
Jun 4, 2018
Inquiry
Hope to hear from you soon. Read good reviews
Mar 2, 2018
Excellent Service
I have used this company on my several visits to Vietnam and I have found their service excellent. They were always there waiting for us and the drivers were very friendly and helpful. I would highly recommend using them.
Thank you very much Joanne
Nov 22, 2017
Great Service
You can book with this company without any worries.
I booked 1 transfer from this company as under below,
Hotel close to Hanoi airport - Halong-Bay
over 3 hour ride 75 Us Dollars
The services were on time, the car conditions were good. Its clean.
Will be booking again soon in December.
Jul 26, 2016
book pick up transfer
need to book for a pickup from airport to hotel on 28/9/2016.