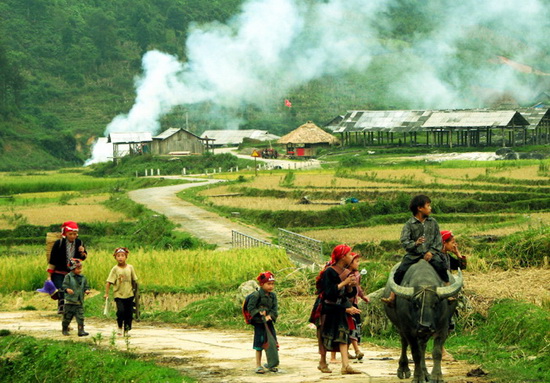 From Hanoi airport (Noi Bai) to Sapa (Lao Cai) of Hanoi 320 km, and takes by car  about 4.5 – 5 house.
Shuttle Bus: It costs $15/pax for one way. ( Departure from Hanoi  6-6.30 AM and arrival to Sapa  11.30-12.00 AM . or – Departure from Hanoi  10.00 PM and arrival to Sapa 5.AM )
By train: See post  http://www.hanoitransferservice.com/train-hanoi-to-sapa-2521/
Private Car: Using a private car  is more convenient and more flexible. The travel time is  shorter because you don't have to wait for others, and it allows you some breaks for photographs, refreshments or a toilet stop along the way.
| | | |
| --- | --- | --- |
| Car type | 1 way | 2 day |
|  4-seat | $165 | $215 |
| 7-seat |  $185 |  $235 |
| 16-seat |  $215 |  $255 |
| 29-seat ++ |  contact |  contact |
Important:
Usually, there are 3 kinds of vehicles: 4-seater cars for maximum 3 passengers, 7-seater for maximum 5 passengers and 16-seater for maximum 11 passengers. ( this to allow room for your luggage ).
Noi Bai International Airport in Hanoi is the largest in the north of the country. It is 35 km from the city centre, and the travel time to or from the city centre is approximately 45 minutes (1hour in peak times) There have been many difficulties for travelers who call taxis' for transferring from Noi Bai Airport to Hanoi. Guests are sometimes charged too highly, or taken to wrong hotels or destinations.
Should you tip your driver? It is up to you whether you want to tip the driver or not. If you are happy with the service he gave you can, however, there is no obligation.
You can pay by Credit card.
The price is per car, not per person, and the quoted price is fully inclusive, with no added extras.
Questions:
Q:Distant Hanoi (NoiBai airport) to Sapa ?
A:320km from Noi bai airport, 350km from Hanoi center.
Q:How long transfer from Hanoi to Lao Cai – Sapa?
A: Take by car about 4.5 -5 house.
Hanoi to sapa by private car.
hanoi to sapa distance, Lao Cai.
hanoi to sapa how long.
hanoi to sapa bus price
best way hanoi to sapa ?
Average rating:
13 reviews
Mar 6, 2016
Cost of car Hanoi to Sapa
please see questions as per above
Dec 5, 2015
Excellent professional service
Travelled from Sapa to Hanoi by private car. Excellent professional service. Reasonably priced. From first contact via email, staff were very helpful. Very safe driver.
Sep 22, 2015
Hanoi to Sapa by private car
group of 5 adults planning 3 days 2 nights private car SAPA trip
Thank you for contact us. Ms Leila will be contact you soon.
Sep 11, 2015
best way hanoi to sapa
I want to go Khao mang from hanoi by bus
Jul 30, 2015
Bus or private car on 13 Nov 15
We grp of 6 persons will arrived Hanoi airport around 9.15pm. Would it suggest direct take bus to Sapa or we shld stay a nite at Hanoi only travel by private car or bus?
We goin spend 2 days 1 nite a Sapa and 1 day at Halong Bays. We going back to Malaysia on 17 Nov 15 flight time 2pm.
Please recommend a good schedule for us?