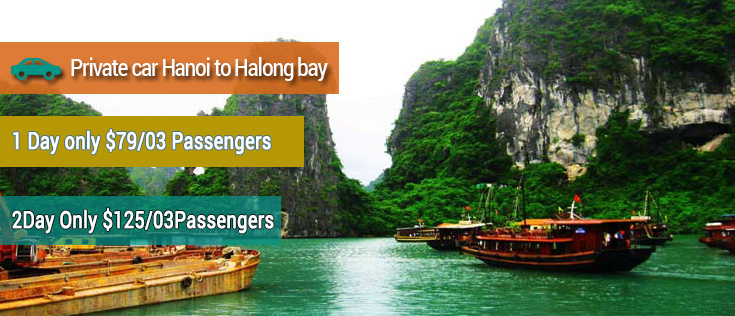 From Hanoi capital to Halong Bay.
From Hanoi airport to Halong Bay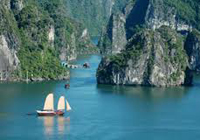 How far is that from Hanoi to Halong Bay?
HaLong Bay is located 160 km from Hanoi, this would take you about 3 – 3.5 hours in a private car to Halong city.
People can either choose the shuttle bus service or Private Car Transfer to get there. Below is the cost of the Round trip transfer from your hotel in Hanoi to Halong Bay and return.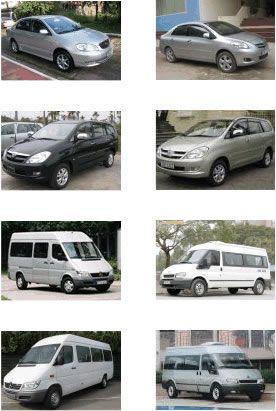 Shuttle Bus: It costs you approx. $15/ per person for 1 way. The 29 seat shuttle bus will pick you from your hotel, on its rounds of Hanoi picking up all customers and also transfer you back to your hotel in Hanoi after the trip. You will share the bus with other people from different hotels so the departure time will be anywhere from 8am – to 9am. you need to be ready at your hotel lobby at from 8.am. It is more economic when a single person is traveling.
Private Car: Using a private car  is more convenient and more flexible. Our driver will be waiting for you at your hotel lobby at 8.30am. The travel time is  shorter because you don't have to wait for others, and it allows you some breaks for photographs, refreshments or a toilet stop along the way.
Rates for transfer from Hanoi(center) to Halong Bay(2 -way).
(All prices include fuel, parking fees and fees for driver)

Usually, there are 3 kinds of vehicles: 4-seater cars for maximum 3 passengers, 7-seater for maximum 5 passengers and 16-seater for maximum 11 passengers. ( this to allow room for your luggage ).
| | | | | | |
| --- | --- | --- | --- | --- | --- |
| Day | 4 seat | 7 seat | 16 seat | 29 seat | 45 seat |
| 1 day | $79 | $85 | $95 | $178 | $220 |
| 2 days | $120 | $130 | $145 | n/a | n/a |
Hanoi airport (NoiBai airport) to Halong Bay
| | | | | | |
| --- | --- | --- | --- | --- | --- |
| Day | 4 seat | 7 seat | 16 seat | 29 seat | 45 seat |
| 1 day | $82 | $88 | $100 | $183 | $225 |
| 2 days | $125 | $135 | $150 | n/a | n/a |

Question: Best way to get from Hanoi to Ha Long Bay?
Answer: Private car will be the best choice for you. You can instruct the driver to stop at any time to take photos or rest.

Average rating:
61 reviews
Apr 24, 2017
Great Service
Our experience with this company for two airport transfers was excellent. both drivers were on time, even though one of our flights was delayed. Communication on both trips was excellent, unlike another tour company that we used in Hanoi. Great work
Apr 7, 2017
Inquiry
Hi there,I am looking for a private transportation for 3 going to Halong City from Hanoi. We will be staying at one of the hotels in Halong for 2 nights only(and we dont need a car during our stay in halong, however we need a transport going back to Hanoi Airport) How much is the round trip transportation (Hanoi-Halong)I look forward to your response. Thank you.
Dear Rowena
Thank you for interest in our service. Ms Lily will be help you.
Mar 25, 2017
transport
Hello, I am going to be in Hanoi for 3 days and I want to go to Halong Bay for one day... I am coming with 2 more people, could you tell me how much it cost for transport round way to Halong Bay? (The cheapest way please)Thank you
Feb 25, 2017
halong bay to hanoi
Hi - i am coming in from bangkok, and want to know how much do you charge for 5 people from halong bay to hanoi (1-way). I would like a hanoi city tour to be included too if possible.Thanks, regardsneha
Sep 9, 2016
"Right on time!"
Amazing services!! We have booked them 4 times while we were in Vietnam and each time they provided the best services: they were there on time, clean car, good driving skills. Definitely recommend them!!