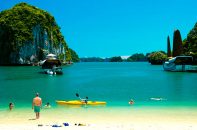 13h00: Check-in your cabin. Enjoy fresh seafood lunch. The cruise will escape crowded Halong bay, keep sailing toward Lan Ha bay & Bai tu long bay where less touristy, quiet & cleaner than Halong bay.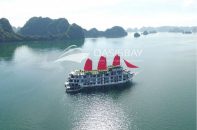 Built in 2011, Halong Party Cruises is a distinct addition to Halong and a smart choice for travelers. Only 175 Km away, this 3-star floating hotel can be easily accessed from the airport. A well-kempt environment and its proximity to Bai Chay Tourist Wharf, Bai Chay Beach, Bai Chay Bridge gives this floating hotel a special charm.
The 04 Paradise Luxury cruises offer 68 luxurious cabins and suites as well as an exciting array of activities to be enjoyed while experiencing the spectacular scenery of the "Bay of Descending Dragons".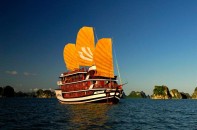 Bhaya Cruises provides day and overnight cruises to discover Halong Bay onboard. Book your Halong Bay cruises now and enjoy our special offers.
The Indochina Sails creates a new concept of security and higher the quality of fleet activities on the bay. With 23 deluxe cabins, it gives customers a sense of refinement and luxury that can't be found in other boats on Halong Bay. Halong Indochina Sails is not only differentiate itself in innovative guest rooms and […]