Operation: Daily departure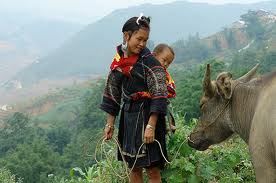 Duration: 3 days/ 4nights ( 1night in homestay/1 night in hotel )
Tour route: Hanoi – Lao Cai – Sapa – Tavan village – Bac Ha market – Lao Cai – Hanoi
Brief description:Easy trekking, soft adventure, private tour, 2 nights on train, 1 hotel night in Sapa town, 1 night in Ta Van village with Dzay people and Bac Ha colorful tribal market.
DETAIL ITINERARY
Night 1: Hanoi – Lao Cai  by night train
19:30 pick you up at your hotel then drive to Hanoi station for a night train to Sapa (overnight on the train, in a cabin with 4 berths, soft sleeper and air-conditioning), you can book the whole cabin or you can share with 2 other persons.  There are several train depart from Hanoi station between 7pm to 10pm, the journey is about 8,5 hours, the end at Lao Cai Station.
Day 1: Lao Cai – Sapa, trek to Ta Van village (B,L,D)
The train arrives in Lao Cai at 6.30 a.m,  Our guide will welcome you with your name on a sign board. We drive up to Sapa about 50 minutes on Car/Van, you will be taken to a small guesthouse for a morning shower, then breakfast at a local restaurant. After breakfast & a short morning break, we start trekking from Sapa town. Our trekking route is from Sapa, through the villages of Hmong and Dzay people; with chances to meet the locals working on the mountainsides or the rice terraces, kids riding on the back of buffalo, to take photograph of the picturesque valleys & awesome scenery. We have a picnic lunch while trekking, and then keep on going to Ta Van village of Dzay people, where you will be warmly welcomed by your host, share dinner with them, and stay in their traditional wooden house.
Day 2: More trekking and return to Sapa (B)
Rise early in the morning to watch the daily life of the ethnic minorities in the village unfold. After breakfast, take the road to Giang Ta Chai village, of the Red Dzao minority, via the paths between terraces and through bamboo forests. Visit silver waterfalls and a suspension rattan bridge, visit the people in the village and then cross MuongHoa River, up the mountain to visit the last village of the trek – Supan village of the H'mong. Get back to Sapa by Car/Van. On the way back, enjoy visiting the ancient stone circle where stones are decorated with ancient carvings. Check into hotel. and enjoy your free time to explore the corners of Sapa town
Day 3: Sapa to Bac Ha market and Lao Cai station ( B, L)
Get up early for breakfast, check out of the hotel, and then drive to Bac Ha market (106 km). You get there through the beautiful  mountain range, and discover the Bac Ha Sunday market: The biggest ethnic market in the Lao Cai province, where you will find buffaloes, horses and other animals, blacksmiths, saddlers, but also traditional medicine doctors, with their thousands of mountain herbs and plants, lots of traditional clothes and local artifacts.
Several groups of deep-coloured Hmong are found there, as well as Dao, Tay, Nung, and Phu La. Make sure to arrive before 9 a.m. as the market ends at about 12 :30. You can have lunch at one of the market stalls inside the market for more of a traditional taste.
In the afternoon, walk around the villages of Flower H'mong, and tasting corn wine along the way. Then we transfer to Lao Cai town. Have dinner here and board the night train back to Hanoi. After 8,5 hours, you arrive in Hanoi station at 5.30am, where your tour ends. Hire your own taxi and return to your hotel.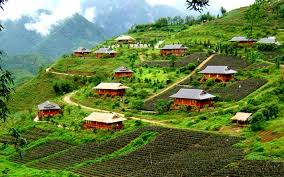 The price:
– 185 usd/pax  for Super tour
– 235usd/pax for Deluxe tour
1. Trip includes:
All transportation and transfers
English speaking guide or as your request
Train tickets
Accomodations
Reasonable supply of bottled drinking water
Additional meals as indicated in the itinerary
Admission fees and permits
2. Trip Exclude:
International departure tax
Visas and Visa fees
Travel insurance
Personal expenses such as shopping; telephone, laundry and bar bills etc.
Average rating:
2 reviews
Dec 1, 2014
Sapa good destination
The staff is friendly n the guide is trying their best to keep us informed of the tour. I enjoy the trip very much but at time got irritated by the ladies trying to sell the handicraft. But it is only a while. In fact I bought almost one million Don of handicraft.inenjoy talking to the mongs.
Nov 1, 2014
Great trek.
Beautiful views and our guide was very informative and helpful